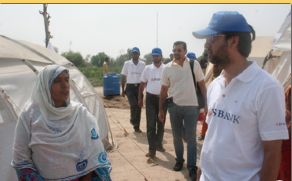 Across Pakistan, uncommon heroes are arising in response to the worst natural devastation in the country's history. One of them is Ali Siddiqui, head of the JS Group, a financial services conglomerate employing 23,000 with stakes in companies in transportation, agriculture, energy and the like. Though only 33 years old, Ali is a man of vision, courage and great spirit. While too many complain that government isn't providing services, he and his family and employees have just gotten on with the business of bringing their skills and resources to do what they can against the odds -- which is ultimately what it takes to bring about change.
Ali has mobilized the family's companies owned by the JS Group to set up and run five camps serving more than 10,000 displaced individuals and providing food supplies to more than 20,000. He works with the army, the military, the UN and grassroots NGOs, and in this way, has created strong relationships that have allowed the camps to function relatively smoothly. He spends five days a week in southern Punjab and Sindh, problem-solving, troubleshooting and ensuring the steady flow of what has become a major operation. His family has donated significant financial resources, but what amazes me is how they've mobilized others to enable them to give, having raised nearly $1 million for their relief efforts in the camps.
Ali has 15 or 20 of the company's senior people working closely with him on everything from partnerships to logistics to working with the United Nations. Rather than wait for international food rations, his team works through bank offices to identify the best prices at local markets and puts together packages that feed 20,000 people daily. Ali's beautiful wife Saira and brother-in-law (also named Ali) spend considerable time fundraising and giving other types of support. We visited three of the camps with Ali and a small team, meeting military officers and police who provided us security, speaking with camp residents and listening to the stories of children survivors. We were amazed by the efficiency of operations and the strong relationships among different organizations working together. Mostly, we were humbled by Ali's leadership. Indeed, one of his slightly younger employees, Imran, told me that he was in the camps because Ali inspired him daily to give all he can to the world. As David Bowie sings, "We can be heroes." Ali Siddiqui and the JS Group are showing the power of the private sector to move quickly, nimbly and efficiently. He is saving lives and changing perceptions of what role business can play in responding to crisis and in building a country that needs to believe in itself. It starts with leadership, and Pakistan -- and the world -- needs more individuals like Ali Siddiqui to show the way. If you want to donate directly, please give to the
Mahvash And Jahangir Siddiqui Foundation
, go
here
.
It's possible to donate to Ali's foundation from anywhere in the world with a credit card or Paypal account - a fantastic way to contribute to flood relief efforts
(Posted by Jacqueline Novogratz)